Thanks for your interest in True Worth.
Let me start by saying that this is a real, printed book. not just a pdf download.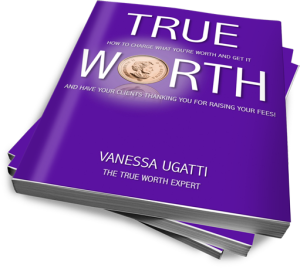 Remember. Inside this book, you're going to discover and learn:
how to raise your fees and have your clients thank you for doing it
the "UV + CV + CA = CW" formula for communicating – and getting – your true worth
how charging for the wrong things (and not charging for others) is keeping your inclome low and your hours up
why you need to motivate your clients the "right" way
how a moment's hesitation could cost you dearly when it comes to fee setting time
So in order to send you your copy all I ask for is a small contribution towards P&P (just £5.99)
Please click the button below and you'll be taken to the payment page. You don't need to sign up with Paypal to use it – you can use any debit or credit card.
Thanks again