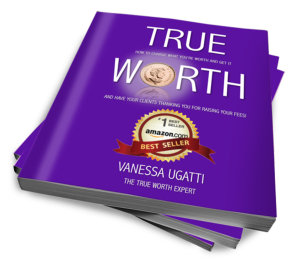 As an accountant or lawyer, you're probably frequently selling time for money. If so, do you recognise that you often undervalue yourself and don't charge what you're worth.  If your answer is yes, would you like to make more money, without having to get more clients, do more work or compromise your value or your values? On this occasion, I'll make the assumption that you do. Then let me tell you that if you have the certitude of being able to accomplish this, or at least believe that it's possible, then you're already on your way.
No doubt, you've been in the habit of under-charging, discounting your fees or over-servicing your clients – at least that's what my clients used to do. What's that costing you both financially and emotionally? To find out: complete this simple 2 minute survey and receive a free report which one client described as frightening and enlightening.
https://www.thetrueworthexpert.com/survey/
I'm pretty sure you'll be shocked at your answers.
My clients tend to be people pleasers, perfectionists, conscientious to a fault and, as it happens extremely good at what they do. Only problem is, they just don't know it! And I'll hazard a guess that you are the same. By the way, I was also one of those people who didn't charge what I'm worth, either, until I developed this niche.
In this short article, to make it more manageable, I want to break this down into three easy steps for you.
Step 1 – Decide
Many of my clients are also challenged with making tough decisions – they're nice people who don't want to rock the boat. They're for the quiet life. However, it's not usually quiet, as they are often running themselves ragged looking after their clients, bending over backwards to meet their every whim and at the same time damaging their own health and well-being. So sometimes rocking the boat is the right thing to do; otherwise, you could be heading for a nervous breakdown – see my previous article below:
https://www.thetrueworthexpert.com/not-charging-what-youre-worth-heading-for-a-nervous-breakdown/
And you may be surprised to learn that there are also benefits to you being able to make tough decisions for your clients!   If you want to know more about this, then please get in touch and I'll be happy to share with you.
Step 2 – Commit
Making a decision is one thing; however, seeing this through is quite another. The mere fact that you commit to doing something is the same as setting an intention. Intentions are powerful, because when you set them, unseen forces also conspire to assist you. For more information, read this well-known short, yet powerful, piece of prose about commitment:
http://www.goodreads.com/quotes/128689-until-one-is-committed-there-is-hesitancy-the-chance-to
Has that inspired you to commit to charging what you're worth? I do hope so; now read on.
Step 3 – Succeed
Final step. Before you can succeed in reality, you must visualise what success would look like, sound like and feel like for you. Imagine being able to charge the right fee for your work. Imagine charging for all the work you do for your clients and imagine never having to discount your fees because of that little voice in your head.
This means that you'll be making more money – how much more money will that be for you 10, 20 or 30,000 a year or more? What will you be able to do with that money? How much more time will you have to spend doing the things you love to do?
Charging what you're worth will give you choice and freedom in your life – you'll have more money, more time and a greater sense of well-being, all of which may have been eluding you up until now.
So if you've already made the decision that you want to charge what you're worth and not sure how to go about it, then please just get in touch on 01202 743961.  You won't regret it!